Back to top
R4 Series
The R4 Series is our most powerful rodless actuators system, built for the heaviest loads, high acceleration and maximum duty cycle. The robust design incorporates an internal linear motion guide rail with a built-in flexible seal to ensure reliable operation in industrial environments. Belt-drive models offer the most rapid moves while screw drives offer the highest thrust capacity and repeatability.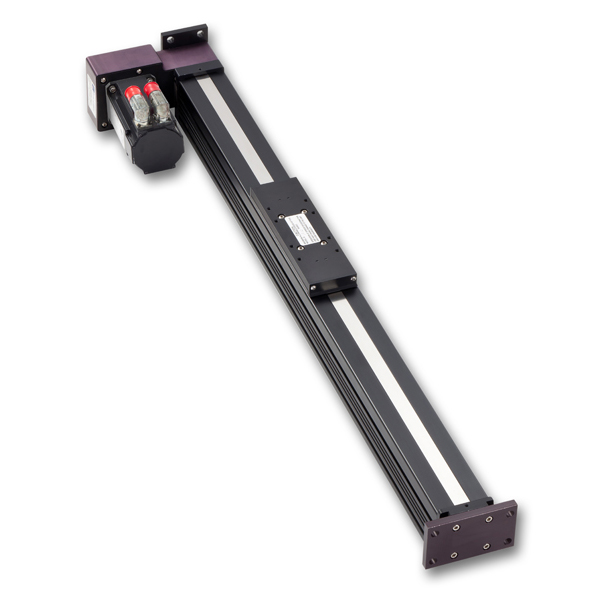 Features
Features
Motors available for use with the R4 Series include:
KollmorgenT32T and T41T Series hybrid stepper motors (P7000 drive recommended)
Kollmorgen AKM42E, 42G, 52G, and 52H Series AKM™ brushless servo motors
NEMA 34and 42 custom motor mounts
Features
Max length: 2,743 mm (108 in)
Max thrust: 3,114 N (700 lbf), screw models
Max speed: 3,000 mm/s (120 in/s), belt models
Ball screw or timing belt drives
Stepper, brushless servo and custom motor options
Internal bearings: recirculating on a precision ground rail
Bearing housing: 6063-T6 aluminum, hard-anodized
Carriage assembly: 6063-T6 aluminum, hard-anodized
Guide housing: 6063-T6 aluminum, hard-anodized
Helical gearing: alloy steel, case-hardened
Ball screw: 1.0" diameter hardened alloy steel screw; alloy steel, heat-treated ball nut
Belt drive: 1.5" wide L pitch urethane with steel reinforcement cords
Flexible seal: stainless steel band, elastomeric seal
Options
Standard or custom lengths to 0.1 inches
English or metric carriage mount
Motor or screw brakes
Right/left side lube port
Magnetic home and limit sensors
Single or dual carriages
Belt or helical gear, parallel or inline direct transmission
Water resistance protection
Right/left breather vent/tubing
Specifications
Specifications
MECHANICAL SPECIFICATIONS
Ball Screw Drive
Belt Drive
Max. Stroke Length, mm (in)
2740 (108)
Profile, mm (in)
91 x 108 (3.6 x 4.25)
Guide Type
Profile Rail
Screw Leads (in/rev)
1, 0.25
Screw Diameter (in/rev)
1
Bearing
20 mm rail, 2 bearing block
PERFORMANCE SPECIFICATIONS
Travel life standard: 25.4 km (1,000,000 in)
Max. Thrust Force, N (lbf)
3100 (700)
1300 (300)
Max. Velocity, mm/s (in/s)
1000 (40)
3000 (120)
Max. Carriage Load:
Normal, N (lb)
1300 (300)
Roll Moment, N-m (lb-in)
67.8 (600)
Pitch Moment, N-m (lb-in)
113 (1000)
Repeatability, mm (in)
+/-0.025 (0.001)
+/-0.25 (0.010)
Max Duty Cycle (%)
100
100
Limit Sensors
Optional
Optional
Std. Operating Temp Range, °C (°F)
-28 to +60 (-20 to +140)
Environment
IP 44 rated: Splash-proof, protected against ingress solid particles greater than 0.040 <1 mm> diameter.
Get Started
Get Started
Count on Kollmorgen support to help you design and build a successful machine and keep it reliably productive, anywhere in the world. Our co-engineering experts will work with you to tailor a perfect-fit solution for your motion requirements.
Talk to a motion expert
Media & Downloads
Documentation

| Title | Language(s) | Date | Size | |
| --- | --- | --- | --- | --- |
| R2A/R3/R4 Series Rodless Actuators Operator's Manual | English | 01 Jul 1999 | 1.35 MB | Copy URL |
| R4 Ball Screw Specs en-US revA | English | | 171.84 KB | Copy URL |
| R4 Belt Drive Specs en-US revA | English | | 171.77 KB | Copy URL |
These 3D models are intended to guide your design activities and may be used as reference information. Be sure to consult a Kollmorgen expert to ensure you have the most current and accurate information for critical aspects of design work