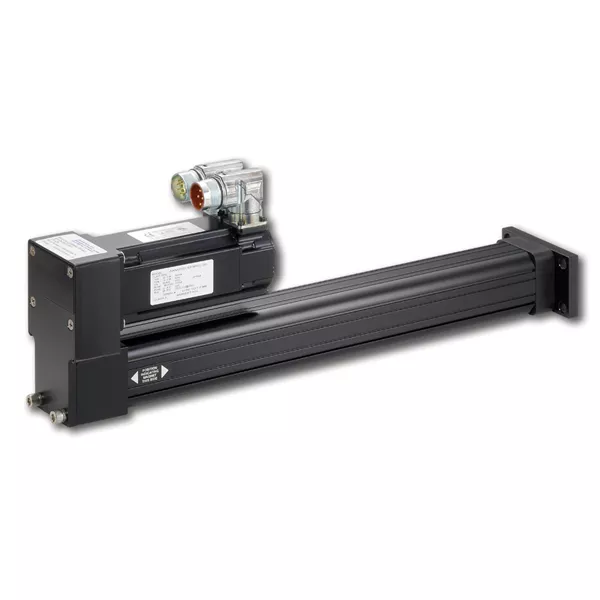 <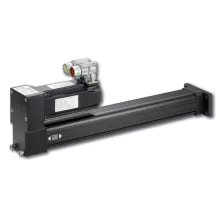 >
N2 Series Electric Cylinders
The N2 Series is an economical, light-duty electric cylinder with a small package size designed for exceptional durability and ease-of-use. The complete system provides simple extend-retract motion, positioning either to predetermined stop locations or to an analog voltage input.

Available only in North America
Features
Motors available for use with the N2 Series include:
Kollmorgen T22T/V and T31T/V Series hybrid stepper motors
Kollmorgen AKM23C and AKM23DSeries AKM brushless servo motors
NEMA 23 custom motor mount
Features
Max stroke length: 571 mm (22 in)
Max thrust: 2,670 N (600 lbf)
Ball or lead screw drive: 2, 5 or 8 revolutions per inch pitch
Stepper, servo and custom motor options
Type 380 die-cast aluminum, epoxy-coated bearing housing
Type 304 stainless steel, 1/4 hard, polished thrust tube
Ball bearing support
6063 T-6 aluminum, hard-coated anodized and Teflon-impregnated cylinder housing
Polyurethane wiper seal
Carbon steel acme or ball screws
Options
Standard or custom lengths to 0.1 inch
Threaded, eye, spherical or clevis rod ends
Magnetic home and limit sensors
Water resistant option
Linear potentiometer output
Specifications
Mechanical Specifications
Lead Screw Version
Ball Screw Version
Max. Stroke Length, in (mm)
22.5 (571.5)
22.5 (571.5)
Screw Lead, in
0.2, 0.5
0.2, 0.5
Screw Diameter, in
0.625
0.625
Unit Backlash, in (mm)
0.016 (0.40)
0.015 (0.38)
Dimensional Standard
English NFPA Std.
English NFPA Std.
Motor Mount
Parallel or Inline
Parallel or Inline
Performance Specifications
Travel life standard: 25.4 km (1,000,000 in)
Max. Thrust Force, lbf (N)
600 (2670)
600 (2670)
Max. Velocity, in/s (m/s)
12 (0.3)
30 (0.76)
Max. Rated Duty Cycle
50
100
Std. Operating Temp Range, °F (°C)
32 to 140 (0 to 60)
32 to 140 (0 to 60)
Environment
Humid, Not Direct Contact
Humid, Not Direct Contact
Learn how to engineer exceptional machines, robots and vehicles with the highest-performing, most reliable motors, drives, automation solutions and more.
Learn More