<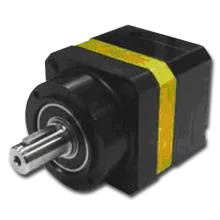 >
XTRUE™
The XTRUE™ Series offers low-cost precision gearheads incorporating many of the features and benefits that distinguish our entire line of TRUE Planetary™ gearheads. With improved load capacity, a flexible mounting system and the ability to serve as an easy drop-in replacement, the XTRUE Series provides a cost-effective solution for many applications. Five frame sizes are available with gear ratios from 1:3 to 1:100.

Limited availability outside North America
Features
Features
Five frame sizes: 40mm, 60mm, 80mm, 120mm, 160mm
Backlash: 13 arc-min
Torque capacity: up to 876 Nm
Ratios available from 3:1 through 500:1
Benefits
Move a larger load more easily, quietly and with less backlash thanks to TRUE Planetary™ gearing
Experience less downtime with our versatile RediMount™ mounting system: simply align, mount and tighten the gearhead to almost any motor.
Simplify machine maintenance with the tapped face output, enabling easy drop-in replacement for most common helical gearheads.
Go "green" with assembly and all components in compliance with EU Directive 2002/95/EC (RoHS)
Specifications
Mounting Type
Inline
Precision
13 arc-minutes
Frame Sizes (mm)
40, 60, 80, 120, 160
Torque Capacity
Nm (lb-ft)
up to 876 (646)
Ratio Availability
3:1, 4:1, 5:1, 7:1, 8:1, 10:1, 15:1, 20:1, 25:1, 30:1, 40:1, 50:1, 70:1, 100:1
Radial Load Capacity
N (lbf)
up to 2300 (517)
Mounting System
RediMount™
Media & Downloads
Title
File Language
Date
Share URL
Blue Guide
English, German
Share URL

https://eur-lex.europa.eu/legal-content/EN/TXT/?uri=OJ%3AC%3A2022%3A247%3ATOC
Learn how to engineer exceptional machines, robots and vehicles with the highest-performing, most reliable motors, drives, automation solutions and more.
Learn More