Back to top
P8000 Stepper Drive
The P8000 Stepper Drive Series is Kollmorgen's latest flagship stepper drive platform. These drives offer expanded output current ranges and functionality that enable our customers to use a wider portfolio of Kollmorgen stepper motors. They are ideal for labelers, indexers, CNC machines, packaging machines, pumps and other applications requiring low-speed, point-to-point motion control for fixed loads. Currently available for DC operation, these drives are designed to power 2-phase hybrid stepper motors.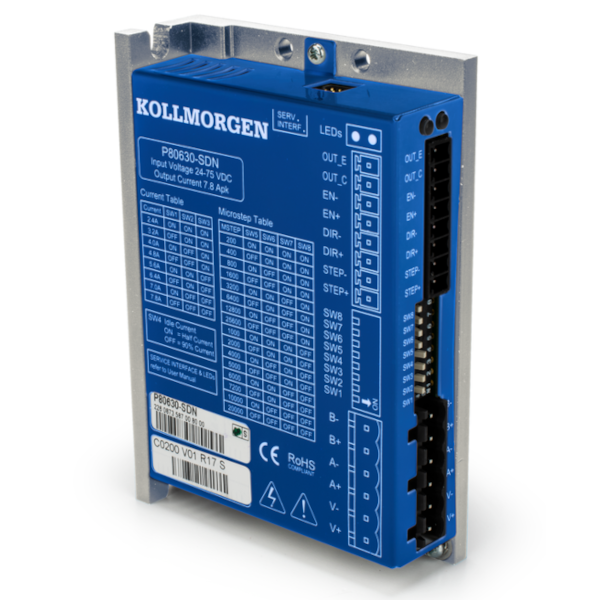 Performance Highlights
New Standard of Performance
Improved Step Angle Accuracy. When using a PMX motor, the P80630-SDN delivers improved step angle accuracy compared to previous drives such as the 6410 and P70530. Enabling our customers to achieve more reliable positioning in their applications.
Superior Power-to-Size ratio. Compared to the 6410 drive, the new P80630-SDN achieves 10% greater output current in a 60% smaller package.
Smooth Motion, Quick Setup. P8000 Series drives optimize smoothness without the need for an electronic damping control switch. Allowing you a quicker setup and installation process to get your application running.
Features
Features
P80630-SDN:

Single 24-75VDC power supply input required
Bipolar chopper drive for superior current regulation and low ripple current
Conventional Step and Direction interface. User provided pulse train to rotate the motor
Dedicated inputs for Step, Direction (CW/CCW) and Enable
Dip-switch selectable settings. No programming required!

Idle Current Reduction to reduce motor heating during dwell or when holding a load
Microstepping resolution up to 25,600 steps/revolution
Motor Phase Current up to 5.5 Arms/phase to pair with widest range of Kollmorgen motors

Fault Protection:

Thermal Protection (Over-Temperature)
Over-Current
Over/Under Bus Voltage
Short Circuit (Phase-to-Phase or Phase-to-Ground)

CE, RoHS, REACH certified
Specifications
Specifications
| Specifications | Units | P80630-SDN |
| --- | --- | --- |
| Input Voltage Range | Volts | 24 - 75 VDC |
| Continuous Current | Arms (Apeak) | 1.7 - 5.5 (2.4 - 7.8) |
| Digital Inputs | - | 3 (Step, Direction, Enable) |
| Digital Outputs | - | 1 (Fault) |
| Control Mode | - | Step and Direction (CW/CCW) |
| Step Resolution | - | Full-Step to 1/128 (200 to 25600 steps/rev) |
| Feedback Support | - | None (Open Loop) |
| Package Size | mm, WxDxH | 26 x 75.5 x 108 (without connectors) |
| Weight | grams | 200 |
| Operating Temperature | Degrees C | 5-40 |
| Max. Chassis Temperature | Degrees C | 70 |
| Idle Current Reduction | - | Settable, 50% or 90% |
| Connectors | - | Screw Terminal |