Back to top
P6000 Stepper Drive
Introducing the New Kollmorgen P6000 Stepper Drive. The P6000 is an AC input micro-stepping drive optimized for pairing with POWERPAC and POWERMAX stepper motors. With the simplicity of dip switches and the optimized performance from the complete system, this stepper solution brings increased machine performance without the associated complexity.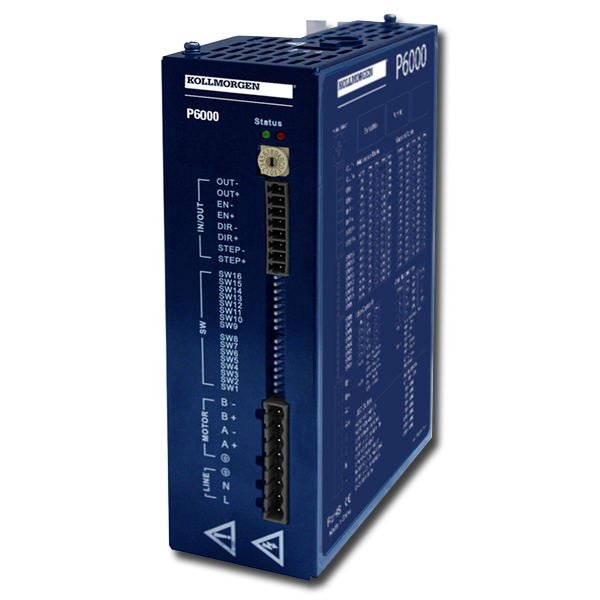 Features
Features
The P6000 and Kollmorgen POWERPAC and POWERMAX stepper motors are designed to provide the best system solution when paired with one another. The easy dip switch selection matches the P6000 settings with the optimal Kollmorgen stepper motor requirements to provide the best performance and most efficient solution for nearly any application.
No programming required!
Covers full power range of Kollmorgen Stepper Motors
Switch Selectable Current Output from 0.2-5.7 Arms, 8.0 A peak
120/240 VAC Input (160/320 VDC Bus)
Kollmorgen Stepper Motor Pairing; Switch Selectable
All Inputs and Outputs are Optically Isolated
Single-Ended and Differential Step and Direction or CW/CCW Command; Switch Selectable
Enable Input
Fault Output (Sinking or Sourcing)
Status LEDs for easy troubleshooting
Switch Selectable Micro-Stepping-Resolution Settings
Step Smoothing Filter; Switch Selectable
Idle Current Reduction; Switch Selectable
Anti-Resonance Based On Load Inertia; Switch Selectable
Self-Test Conducts Spin Test to Confirm Proper Connection; Switch Selectable
RoHS & CE Certified
Get Started
Get Started
Count on Kollmorgen support to help you design and build a successful machine and keep it reliably productive, anywhere in the world. Our co-engineering experts will work with you to tailor a perfect-fit solution for your motion requirements.
Talk to a motion expert