Back to top
6410 Stepper Drive
These modular, high-performance microstepping drives support a broad range of requirements. These drives offer excellent value for low voltage DC input-powered applications. The 6410 model has step and direction inputs and adjustable output current from 0.625 to 5 Amps RMS with 3-position DIP switch.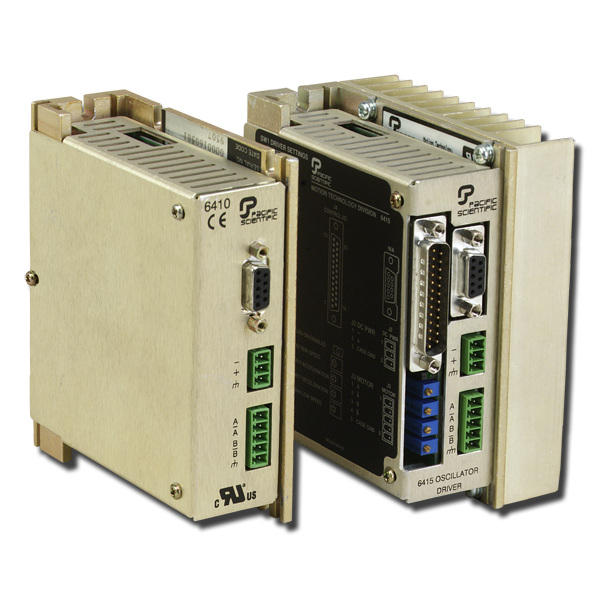 Features
Features
Single power supply input
Input voltage is from 24 to 75 VDC for a broad range of power sources
Output current adjustable from 0.625 to 5 Amps RMS with 3-position DIP switch
4-phase bipolar chopper drive for superior current regulation and low ripple current
Microstepping resolution is selectable via DIP switches up to 51,200 steps per revolution
Idle current reduction reduces motor heating in many applications
Selectable step filter rejects noise on step input
Fault Protection:

Line-to-line and line-to-neutral shorts
Internal power supply under-voltage
Bus overvoltage

Compact size
Specifications
Specifications
| | 6410 |
| --- | --- |
| Step Sizes | Binary or Decimal, full to 1/250 or 1/256 |
| Input Voltage | 24-75 VDC |
| Output Current | 0.625-7.1 amps, Peak |
| Interface Inputs | Step and Direction |
| Interface Outputs | n/a |
| Connectors | Screw Terminal, D Sub |
| Package Size W (w/heat sinks) xHxD | 39.62 x 104.90 x 82.55 mm (1.56 x 4.13 x 3.25 in) |
Get Started
Get Started
Count on Kollmorgen support to help you design and build a successful machine and keep it reliably productive, anywhere in the world. Our co-engineering experts will work with you to tailor a perfect-fit solution for your motion requirements.
Talk to a motion expert