Back to top
S700
The S700 is a digital servo drive with extended functionality that is ideal for complex drive tasks. It incorporates onboard Ethernet connectivity for use with EtherCAT® and SynqNet™, and the optional MMC memory card enables parameter records and firmware to be easily backed up in the field. A Safe Torque Off function is standard, and other safety functions can be added. Single Cable feedback with both SFD3 and Hiperface DSL is also supported.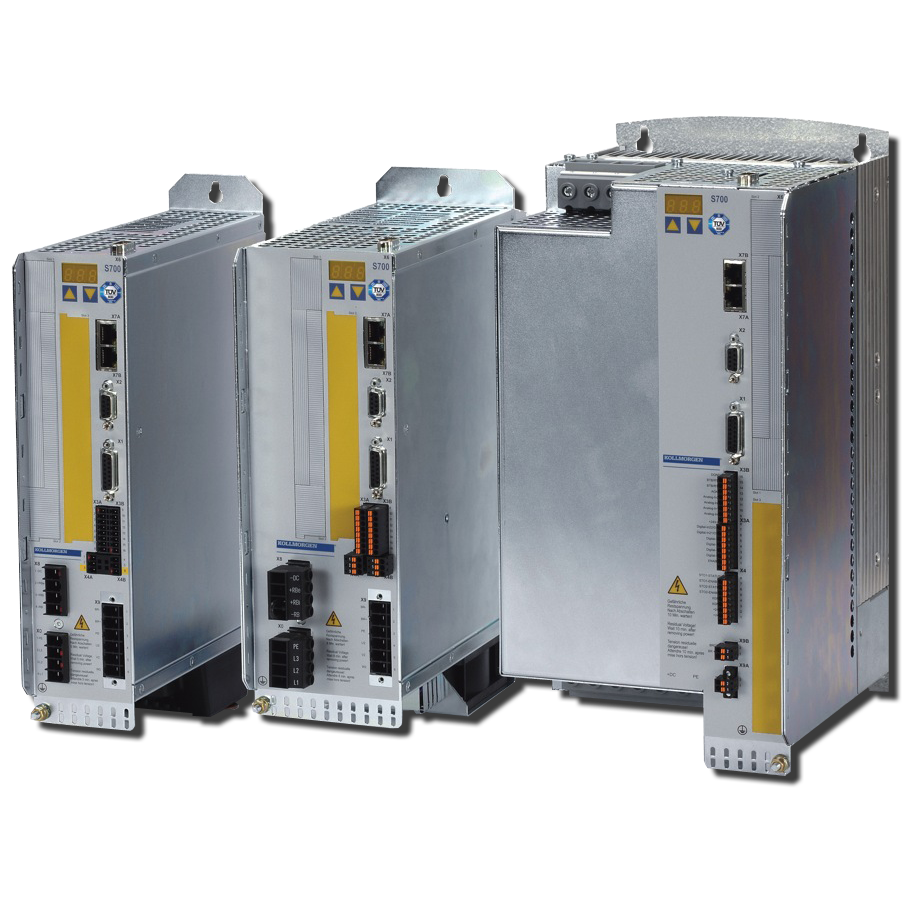 Features
Features
Features
CE, UL, TÜV safety tested
Operation directly from grounded 110 to 480 VAC, 1 or 3-phase, 50 to 60 Hz lines
Models with maximum continuous output current from 1.5 to 72 Amps RMS/phase
Safe Torque Off (STO) function onboard
Safety expansion cards available with SIL2 or SIL3 safety functions such as SDI, SLS, SS1, SS2, SBC and more
EtherCAT® and CANopen bus communication onboard
Legacy bus support including PROFINET, DeviceNet, PROFIBUS DP, SERCOS II and RS232
Single Cable Feedback SFD3 and Hiperface DSL
Slot for MMC memory card for backup and copy of parameters and firmware
Optimized resolver interface
Autotuning
Cogging suppression
Fastest feedback evaluation on the market
Benefits
High-speed current, speed and position control result in higher machine cycle rates
Safety functions SIL2 / SIL3 increase machine availability
IEC 61131 macro programming language inside makes motion flexible
Multi-interface and multi-feedback features provide compatibility with all standard controllers and feedback systems, reducing the need to stock multiple drive types
Onboard EMC filters and integrated power supply and brake resistor enable smaller switchgear cabinets
Memory card for parameter and firmware updates, autotuning features and connectors for all connections facilitate faster setup
Specifications
Specifications
Technical Data
Rated data
DIM
S701
S703
S706
S712
S7120P
S724
S7240P
S748
S772
Rated line voltage
V~
3 x 208V-10% … 3 x 480V+10%, 50/60 Hz
Rated line power for S1 operation
kVA
1,1
2,2
4,5
9
9
18
18
35
50
Auxiliary supply
V=
24
Rated DC-link voltage
V=
290-675
Rated output current (RMS value)
-At 3 x 208 V
A RMS
2,5
5
6
12
12
24
24
48
72
- At 3 x 230 V
A RMS
2
4
6
12
12
24
24
48
72
- At 3 x 400 V
A RMS
1,5
3
6
12
12
24
24
48
72
-At 3 x 480 V
A RMS
1,5
3
6
12
12
24
24
48
70
peak output current (RMS value)
A RMS
4,5
9
18
24
30
48
72
96
140
Dimensions
Rated data
DIM
S701
S703
S706
S712
S7120P
S724
S7240P
S748
S772
(H) Height incl. Fan
mm
345
348
385
(W) Width
mm
70
100
190
(D) Depth incl. Connector
mm
243
Success Stories
Success Stories
Get Started
Get Started
Count on Kollmorgen support to help you design and build a successful machine and keep it reliably productive, anywhere in the world. Our co-engineering experts will work with you to tailor a perfect-fit solution for your motion requirements.
Talk to a motion expert