Back to top
AKD-N Decentralized Servo Drive
The AKD-N decentralized servo drive reduces cabinet space and opens the way to a smarter machine automation with 80% less cabling. Typical applications for the AKD-N are packaging machines and production machines in food and beverage industry.
IP67 drives can be mounted to machine, outside the control panel
Reduced cabling because DC, network, power supply, I/O level as well as safety (STO) run in one cable
More flexibility in machine design, can be "cold plate" mounted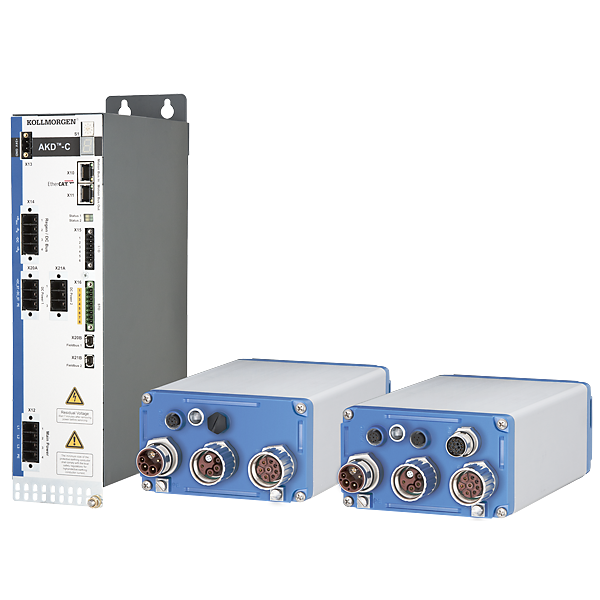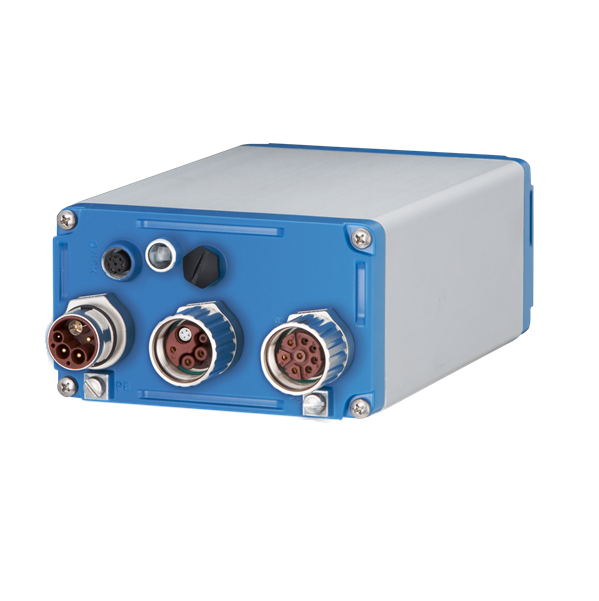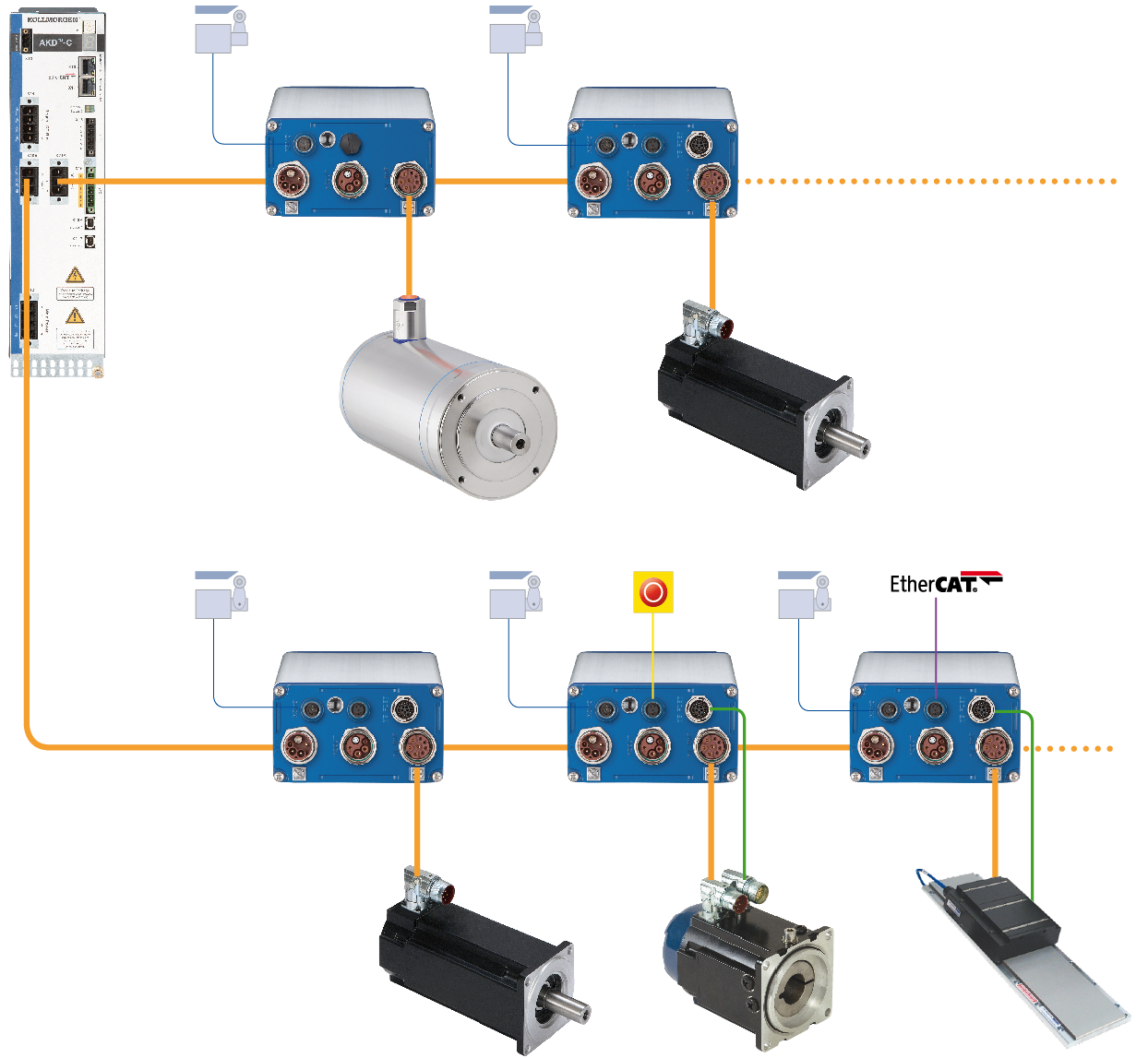 Decentralized Cables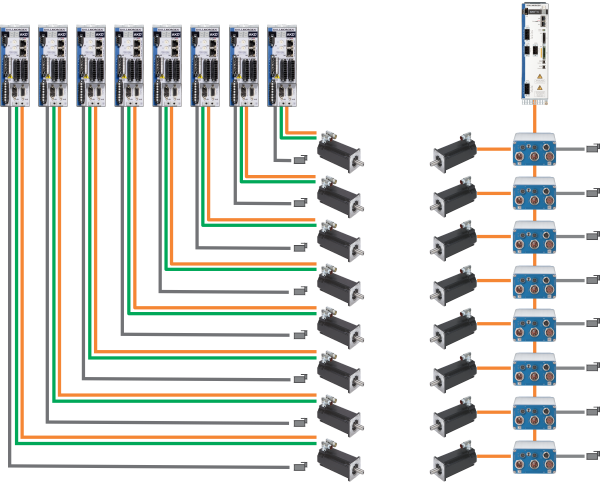 Lay Less Cable
Imagine your machine includes eight axes each with a distance of three meters. The switch cabinet is 5 meters away and on each axis there is also a switch. In this example that equates to a total of 372 meters of cable with typical servo drives, but with AKD-N it is only 42 meters. The decentralized servo technology of the AKD-N saves 330 meters here.
Explore Topography
AKD-N Decentralized Drive Cabling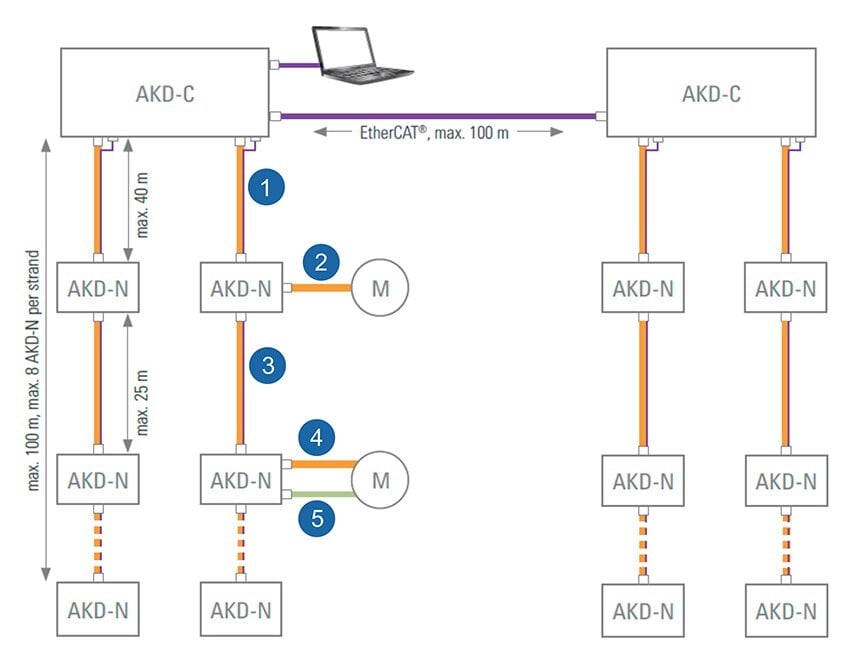 1

Hybrid cable AKD-C to AKD-N: CCNCN1

2

Hybrid motor cables for single-cable operation:

3

Hybrid cable AKD-N to AKD-N:

4

Motor cables for dual-cable operation:

CMØNA2 without brakes
CM1NA2 with brakes

5

Feedback cables for dual-cable operation:

CFSNA2 SFD
CFCNA2 Comcoder
CFENA2 EndDat / BiSS
CFHNA2 Hiperface
Features
Features
Reduce costs
Reduced cabling because DC and network, power supply, I/O level as well as safety (STO) run in one cable
Fast and simple assembly, even without special knowledge, through ready-made and tested cables
Lack of derating enables smaller motor and servo drive combinations compared to integrated system with the same output power
Compact machines
Smaller and therefore easily integrated switch cabinets
Servo drives in the immediate vicinity of the motor
Robust construction in Protection class IP67 makes protective enclosures superfluous
Faster startup
Plug connectors in IP67 for connection without tools
At only eleven millimeters, the thin hybrid cable can be laid in a space-saving manner – even in tight machine corners, thanks to a small bending radius
Simple connection of I/O systems or networks directly to the drive
Parameterization with Kollmorgen's WorkBench software
Higher machine effectiveness (OEE)
Design supports fast and effective cleaning
High operating safety through robust construction
Precision through digital feedback
Everything at a glance: Status display on servo drive
More flexibility in machine design
Compatible with all motors from Kollmorgen with single-cable, or dual-cable, connection
Simple combination of central and decentralized controllers within the comprehensive AKD family
Faster modification and upgrade options through linear topology as well as I/O and network interfaces at the axis
Specifications
Specifications

AKD-N: Decentralized Servo Drive
AKD-N00307
AKD-N00607
AKD-N01207
Continuous output current
3A
6A
12A
Peak output current
9A
18A
30A
Environmental area
IP67
Size
75x130x201mm³
75x130x252mm³
Fieldbus
EtherCAT
Feedback
SFD, Biss C, EnDat 2.1 and 2.2, Hall, Comcoder, Hiperface, Hiperface DSL
I/O
3 digital inputs, 1 digital output
Vibrations
3M5
Options
Tertiary fieldbus (-DF)
Local STO SIL 2 / PLd (-DS)
Tertiary fieldbus with two cable feedback (-DF)
Tertiary fieldbus with single cable feedback (-DG)
Local STO SIL2/PLd with two cable feedback (-DS)
Local STO SIL2/PLd with single cable feedback (-DT)

AKD-C: Central Power Supply for up to 16 AKD-N
| | AKD-C01007 |
| --- | --- |
| Rated supply voltage | 400…480V, 3 phase |
| Continuous output power | 10 kVA |
| Peak output power | 20 kVA |
| Environmental area | IP 20 |
| Size | 329x80x198mm³ |
| Fieldbus | EtherCAT |
| STO | SIL 2, PL d |
Get Started
Get Started
Count on Kollmorgen support to help you design and build a successful machine and keep it reliably productive, anywhere in the world. Our co-engineering experts will work with you to tailor a perfect-fit solution for your motion requirements.
Talk to a motion expert
About Kollmorgen
For more than 100 years, Kollmorgen has been creating innovative solutions that bring big ideas to reality, keep the world safer and improve lives. Our history of reliability is unsurpassed, and our solutions are supported through engineering centers of excellence and customer service in all major regions of the world.
See the Kollmorgen global footprint
|
Discover the Kollmorgen difference