Knowledge Base
Spend less time troubleshooting and more time developing.
We created the Kollmorgen Developer Network so you can focus on what matters most: Building awesome machines.
Back to top
Remote Viewing of an AKI HMI
For remote viewing, the AKI terminal contains a remote VNC server that can connect to a remote VNC viewer in another device (example: PC) either in the same building or remotely through the internet .
From our KVB (Kollmorgen Visualization Builder) documentation:
The Remote Access function makes it possible to access, reflect and control an HMI-panel from a PC by using the free VNC client program Remote Access Viewer together with the built-in VNC server in the HMI-panel.
It is possible to set up Remote Access with a view only password and/or a full access password. The view only password allows reflecting the panel remotely; the full access password allows also control of maneuverable objects in the panel.
The maximum length of the password is eight characters according to the VNC standard.
Only one VNC client can connect to the VNC server.
Only available when an HMI-panel is selected as target.
To protect secrecy when entering a password via Remote Access Viewer, it is recommended to use the PC keyboard. Otherwise it is possible that the cursor on the remote HMI-panel displays which keys are pressed on the alphanumeric keyboard.
When a panel is remotely controlled, it will beep as if it was touched.
For more information about Remote Access, refer to the documentation for Remote Access and Remote Access Viewer
In KVB, setup is done by clicking on the Remote Access button in the top ribbon under the System tab: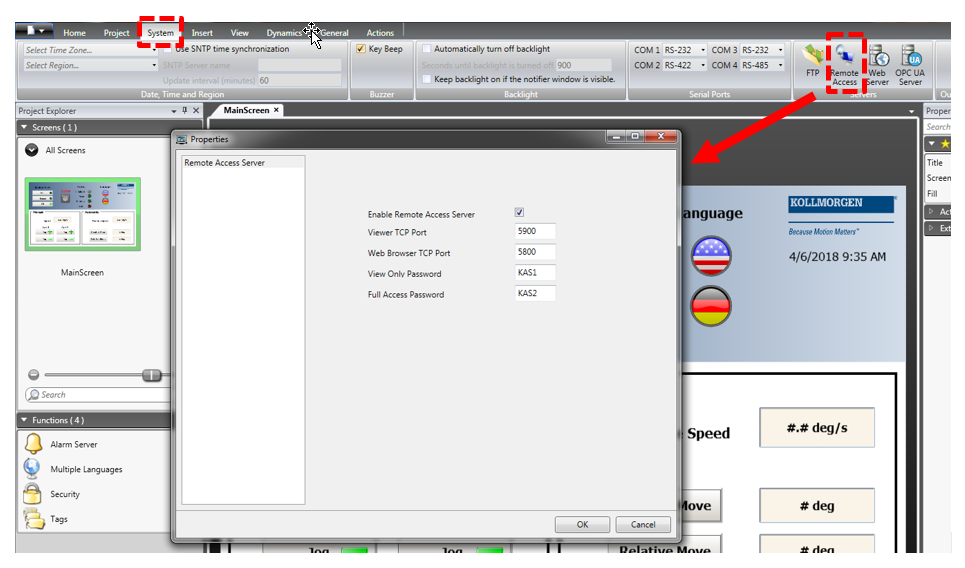 Below is a screen shot from the Remote Access Builder software (install file attached) remotely displaying a screen from the AKI HMI: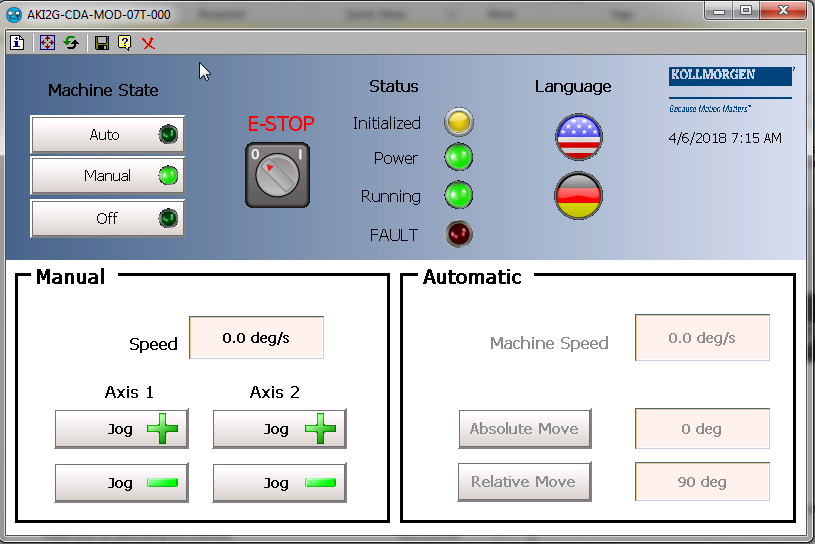 The "Connection profile" settings can be used to optimize the connection and minimize screen delay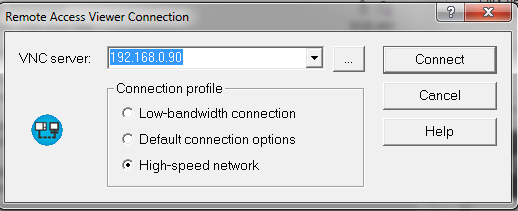 Setup connection information: