Sizing tools and gearbox selection
| 06 Jun 2014 | |
Sizing tools and gearbox selection
If I know that my application needs X amount of N*m of torque at Y RPMs given a certain voltage level, then what tools does Kollmorgen have to help me size a motor and gearbox solution given the limitations of the motor and gearbox?
Tom Kunkel
Comments & Answers
josh.bellefeuille

said ...
josh.bellefeuille
|
Wed, 06/11/2014 - 13:04
I'd recommend the 'Direct Data Entry' mechanism in Motioneering. See screenshot below.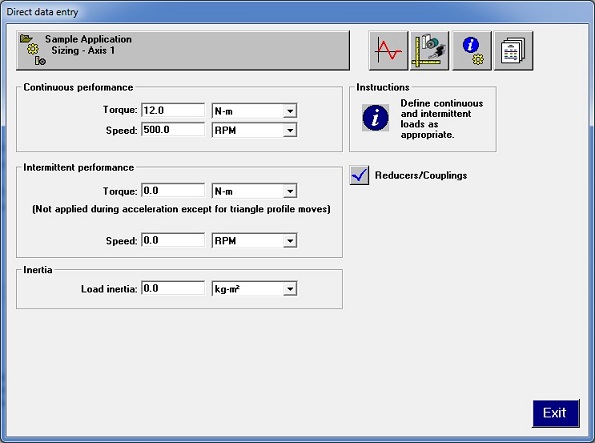 You can easily evaluate critical application parameters such as:
- continuous torque and speed required
- peak torque and speed required
- Motion profile
- Gearbox ratio, efficiency
After inputting all critical information select the 'Size System' icon. There are numerous motor series (shown at different bus voltages) to review.
The results will populate based on the performance available from the motor AND the gearbox that you entered. So it's easy to see the results of the motor plus gearbox system, based on the application needs.
One thing you cannot do quite as easily is to find the "optimum" gearbox ratio. But it can be done. You may just have to spend some time going back and fourth between the sizing results and manually adjusting the ratio on the initial screen.
-JB