Knowledge Base
Spend less time troubleshooting and more time developing.
We created the Kollmorgen Developer Network so you can focus on what matters most: Building awesome machines.
Back to top
KAS HMI Panel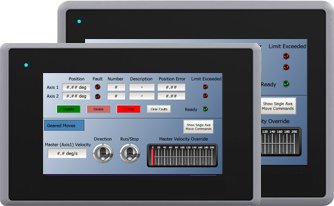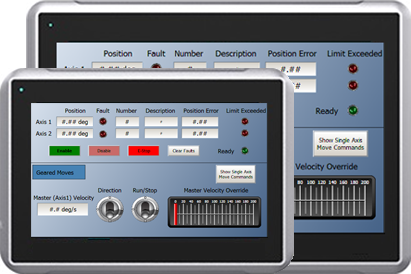 With Kollmorgen HMI's visualization projects can be scaled for different size screens and performance demands without having to re-write code or learn different tools.
Two processor levels

Automatic variable mapping

Auto-IP for instant connection to control hardware

IP65 Waterproof, some models Marine certified

High-resolution LCD displays
AKI2G KAS Operating Console
AKI2G-CDA 5"
AKI2G-CDA 7"
AKI2G-CDB 7"
AKI2G-CDB 12"
Housing
Plastic, IP65
Aluminum, IP65, NEMA 4X/12 and UL Type 4X/12
Resolution
800 x 480 (16:9)
800 x 480 (16:9)
800 x 480 (16:9)
1280 x 800 (16:10)
Processor
400MHz ARM9
1.0GHz ARM Single Cortex-A9
1.0GHz ARM Dual Cortex-A9
RAM
128 MB (DDR2)
512 MB (DDR3)
1 GB (DDR3)
Flash Memory
256 MB, 200 MB free for application storage
2GB SSD(eMMC), 1.5GB free for application storage
External Storage
1 x SD card
Connectivity
1 x Ethernet, 4 x serial
2 x Ethernet, 2 x serial
SD Card
n/a
SD & SDHC
Expansion
1 x USB 2.0 500mA
2 × USB 2.0 500mA
Audio Output
Yes
PDF Viewer
Yes
Web Browser
Yes
AKI KAS Operating Console
AKI-CDA
AKI-CDB
AKI-CDC
MOD-05T
MOD-07T
MOD-10T
MOD-07T
MOD-12T
MOD-15T
MOD-12T
MOD-15T
MOD-21T
Screen Size
4.3"
7"
10"
7"
12.1"
15"
12"
15"
21"