F602 STO Fault Help
| 28 Jun 2017 | |
F602 STO Fault Help
Hello, Im Hafiz Alsree working on final-year project about development of counterbalance mechanism for aerospace application in Nanyang Polytechnic.
I have an AKM3e servo motor to pull a load (Elevator application) with AKD-P00306-NBAN-0000 servo drive model.
Problem: Received fault F602 (Safe torque off).
Description: After power on the whole system, AKD has display code of "n6, n0, n2". After initializing settings on NI MAX and enabling Kollmorgen Workbench, AKD display code show "F6, F0, F2".
Hardware used:
AKD3e servo motor
AKD-P00306-NBAN-0000
UMI 7772 (National Instrument)
NI 7340 (National Instrument)
Software:
NI MAX
Kollmorgen Workbench
Please assist and advice.
Thank you.
Regards
Hafiz Alsree
Comments & Answers
jcoleman02

said ...
jcoleman02
|
Wed, 06/28/2017 - 15:14
The F602 fault will occur whenever the drive is attempted to be enabled and the STO is off (low, or open circuit). If the drive is enabled and then you drop the STO, it will fault. If the drive is disabled and the STO is off, and then you try to enable the drive, it will fault. The STO must be on (high) in order to enable the drive.
Hafiz Alsree

said ...
Hafiz Alsree
|
Fri, 07/07/2017 - 02:24
@jcoleman02
The X1 3-pin connector is this: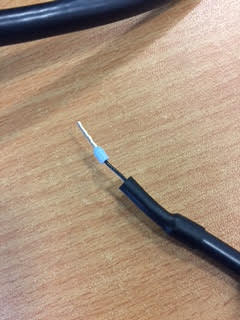 Is this the STO output (Suppose to connect to STO input on X1 3-pin connector)?
If not, what is that for? Or it has nothing to do with STO?
Also, I have connected it to STO input and it has F602 fault.
But when I connect 24V DC to STO input, theres no F602 fault.