Knowledge Base
Spend less time troubleshooting and more time developing.
We created the Kollmorgen Developer Network so you can focus on what matters most: Building awesome machines.
Back to top
AKMH Servo Motor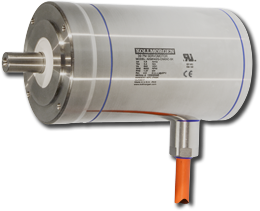 Application area for these motors is the food and beverage industry, without direct contact with unpacked foodstuffs, according to EN 1672-5.3.2. Applications can be cutting, packing and filling without direct contact with foodstuffs. The motor should be placed laterally or below the food. The motors can be mounted to the linear actuators ERD.
Motors can be ordered with cables or with connectors, both meeting IP69K. For applications where hygiene is critical, we recommend our cable version.
The one cable solution supports digital feedback system SFD3, and HIPERFACE DSL.
The two cable solution is necessary for support of Resolver, Comcoder, HIPERFACE, and ENDAT feedbacks.
Articles
Technical Data
Technical data of all available motor windings can be found in the motor manual.
Technical data of the built-in holding brakes are on page Holding Brake.
Resistancy Against Cleaners
AKMH surface is resistant against industrial cleaners.
Standards:
UL, CE, RohS
according to DIN EN ISO 14159 and DIN EN 1672-2
Surface:
Stainless steel 1.4404, roughness less than 0.8µm
Resistancy:
Against tested cleaning agents, corrosion resistant
Test Report
Protection class:
IP69K
Screws:
Stainless steel 1.4404, Silicone seal FDA 21 CFR 175.300
FDA Material List
O-Ring:
EPDM, FDA 21 CFR 177.2600
Shaft:
Stainless steel 1.4404
Shaft seal:
Mineral filled PTFE, single lip,
mineral: FDA 21 CFR 175.300
PTFE: FDA 21 CFR 177.1500
Lubricant:
food-grade as per FDA 21 CFR 178.3570
Cable gland:
Stainless steel 1.4404, Silicone seal FDA 21 CFR 177.2600
Cable tube:
Silicone FDA 21 CFR 177.2600
Name plate:
Laser marked in housing
Size:
AKMH2 - AKMH6