press_release
|
Combined strength, joint solutions
|
minute read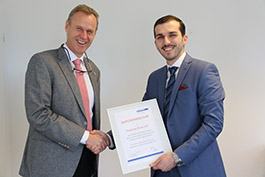 Ratingen – tailored solutions for challenging tasks instead of automated, off-the-shelf technology: Quality Automation GmbH's name says it all. Since its foundation in 2000, the company based in Stolberg, close to Aachen, has been amongst the leading systems integrators in production and manufacturing automation. Quality Automation joined the ranks of KOLLMORGEN's illustrious systems partners in October. The agreement was signed by Michael Fritz, CEO of Quality Automation and by Ibrahim Albrach, Key Account Manager for KOLLMORGEN in September 2017.
Quality Automation fits perfectly into KOLLMORGEN's strategy, aiming to offer client-specific solutions to OEMs and end users. The secret to success lies in being involved in the early engineering phases of new machines and being able to deliver exactly the right servo drive technology and motion control. "We appreciate KOLLMORGEN's extensive knowledge, especially related to complex, multi-axis motion profiles as well as direct collaboration for short decision-making processes." Co-engineering is definitely one of our special strengths", says Michael Fritz, CEO of Quality Automation.
One great advantage to KOLLMORGEN's new partnership is that, as a factory engineering partner and systems integrator, Quality Automation covers the whole automation pyramid from drives right up to command level. "There's a new approach with regards to the industry 4.0, with questions now relating to interfaces, database connection, or cloud-based automations", explains Ibrahim Albrach, Key Account Manager at KOLLMORGEN in Ratingen. "Our new partner has already developed solutions in these areas with our collaboration, thereby creating a unified solution."
Image text 1
An exciting new partnership: Michael Fritz from Quality Automation and Ibrahim Albrach, Key Account Manager at KOLLMORGEN.
ABOUT KOLLMORGEN
Since its founding in 1916, Kollmorgen's innovative solutions have brought big ideas to life, kept the world safer, and improved peoples' lives. Today, its world-class knowledge of motion systems and components, industry-leading quality, and deep expertise in linking and integrating standard and custom products continually delivers breakthrough solutions that are unmatched in performance, reliability, and ease-of-use. This gives machine builders around the world an irrefutable marketplace advantage and provides their customers with ultimate peace-of-mind. For further information please contact [email protected] or visit our website www.kollmorgen.com/uk