Back to top
Kollmorgen Motor Technology and Design Expertise Enable Advanced Robotics Capabilities for Tartan Rescue Team's CHIMP Humanoid Robot
RADFORD, VA – The Tartan Rescue Team, a partnership of the National Robotics Engineering Center (NREC), the applied research and technology transfer organization of Carnegie Mellon University's (CMU) world renowned Robotics Institute, along withKollmorgen and other technology sponsors, has designed and built an advanced robot known as CHIMP (CMU Highly Intelligent Mobile Platform) – the team's entry into the DARPA Robotics Challenge. CHIMP utilizes Kollmorgen frameless motor technology in each of its drive joints to deliver advanced functionality and significant performance benefits for the Robotics Challenge. This advanced functionality also paves the way for new mobile manipulation and manufacturing automation applications.
"The CHIMP design explicitly avoids many of the dynamic stability issues associated with humanoid robots. Tracks on all four limbs provide CHIMP with better mobility and with stability while opening doors, using tools and turning valves. Sensors at the head and limbs provide the perception and feedback needed for CHIMP to manipulate objects, remove debris and travel safely through the environment," says National Robotics Engineering Center Business Development Director, Steve DiAntonio. "The hardware components and software methods that form CHIMP are standalone technologies that, in their own right, offer new automation capabilities for facility maintenance, manufacturing and material handling."
For example, CHIMP's drive joints - constructed of Kollmorgen motors integrated with gearing and housing components - actuate the robot's 50 degrees of freedom and deliver advanced mobility, multi-limb manipulation and human-like grasping capabilities not found in today's industrial robots. These capabilities are made possible by four custom frameless motor sizes from Kollmorgen – a total of 42 motors between the four sizes – along with seven modified standard KBM™ series frameless motors.
"The Tartan Team looked to Kollmorgen to help maximize its competitive advantage through high performance motor technology, as well as our application and design expertise," says Kollmorgen Regional Sales Manager for Custom Motor Solutions, Dave Graff. "Kollmorgen engineers worked to design a compact and high power density motor and worked hand and hand with CMU's engineers to develop the high power joint that really makes the human-like capabilities possible."
A Critical Design Review (CDR) with DARPA in June represents the Tartan Rescue Team's first major milestone. Following CDR, the team will begin testing CHIMP's ability to perform the DARPA specified tasks. DARPA will evaluate CHIMP and other competitors ability to perform these tasks during DARPA's first challenge on December 21, 2013 in a Southern US city. We expect this event to be widely covered by the popular and technical press. For more information, please see www.theroboticschallenge.org
"We thank Kollmorgen and our other sponsors for donating funds, equipment and expertise that together with our DARPA funds have provided us with the resources to design a winning robot," says DiAntonio.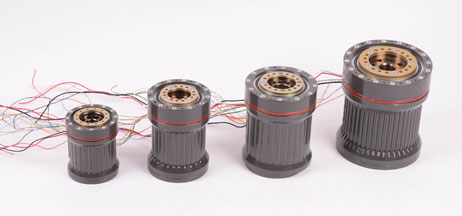 ABOUT DARPA ROBOTICS CHALLENGE
The DARPA Robotics Challenge is a response to the Fukushima Daiichi nuclear accident, where robots were ill-equipped to assess the disaster, inspect the facility, and fix problems. Its goal is to develop ground robots that can work in dangerous, degraded, human-engineered environments.
DRC Competitors focus on robots that can use standard tools and equipment commonly available in human environments, ranging from hand tools to vehicles. To achieve its goal, the DRC aims to advance the current state of the art in the enabling technologies of supervised autonomy in perception and decision-making, mounted and dismounted mobility, dexterity, strength, and platform endurance.

ABOUT KOLLMORGEN
Kollmorgen is a leading provider of motion systems and components for machine builders around the globe, with over 70 years of motion control design and application expertise.
Through world-class knowledge in motion, industry-leading quality and deep expertise in linking and integrating standard and custom products, Kollmorgen delivers breakthrough solutions unmatched in performance, reliability and ease-of-use, giving machine builders an irrefutable marketplace advantage.