Meet us at MODEX 2022
-
Europe
|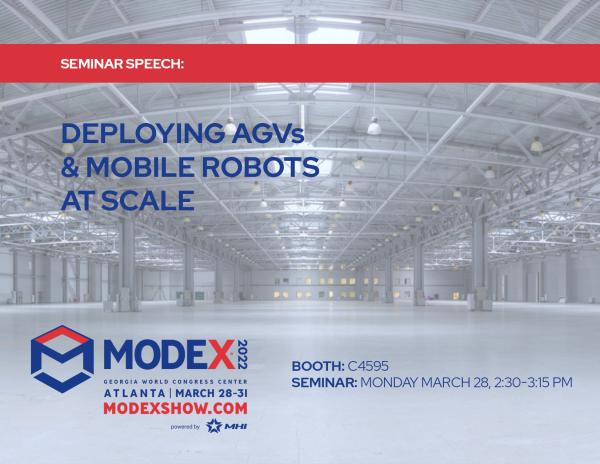 It is time to meet face-to-face with all our industry colleagues again. As always, these venues are invaluable as they provide the opportunity for us all to exchange know-how, industry news, strengthen our relationships, and inspire people. Maybe even more important is the opportunity to strengthen our industry: Most of us have personally experienced how COVID-19 fundamentally disrupted supply-chains. This further emphasizes the great importance for businesses to become more efficient and resilient by transforming logistics. The work we all do in this industry is instrumental.
With that said, we are excited to announce that Kollmorgen NDC Solutions is back at MODEX 2022. These last two years have been exceptionally busy for us. The rapid growth of our global partner base and their applications, demonstrates the value that NDC Solutions continuously delivers. We look forward to sharing the latest development news and how our industry leading NDC Solutions technology enables our partners to build exceptional autonomous vehicle applications – by delivering advanced software and hardware for navigation and controls, together with extensive business services.
Growing our partners' business is the core of our business model. Our solutions are co-engineered and developed in close collaboration with our partners. It is an end-to-end industrialized and proven solution to automate any vehicle or application – from small and simple to large and advanced.
The Power of Kollmorgen NDC Solutions
Accelerate development through an end-to-end automation solution for any vehicle or application
A modular and scalable solution, regardless of size or complexity
Customized to differentiate your unique automated/autonomous vehicle needs
Seamless support from project inception to end-user
An industrialized solution – proven in real world industrial settings
Provides data insights from over 40.000 operational vehicles, running with NDC Solutions' software and hardware
Developed by our experts since 1972 – with over 15.000 combined years of know-how to solve your challenges
A stable and long-term solution that can continuously evolve to fulfill your future needs
We welcome you to visit us at MODEX 2022 for the latest development news, and to learn how you can deploy AGVs & mobile robots at scale.
Visit booth C4595
Seminar speech: Monday March 28, 2:30-3:00 "Deploying AGVs and Mobile robots at scale"
About Kollmorgen's NDC Solutions
Kollmorgen's NDC Solutions is the industry leading platform utilized by vehicle builders to create driverless logistics automation solutions. The platform consists of both software to route vehicles efficiently, and hardware for navigation and control. With Kollmorgen NDC you may automate virtually any type of vehicle or robot and integrate it to any type of material handling application, in any industry, worldwide.