Back to top
Kollmorgen at IPPE 2019 in Atlanta, Georgia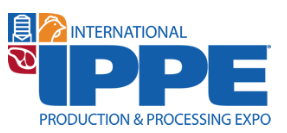 IPPE is the world's largest annual display of technology, equipment, supplies, and services used in the production and processing of eggs, meat, and poultry manufacturing.
The 2019 International Production & Processing Expo brings together more than 1,216 exhibitors and 30,000 visitors and covers 521,800 square feet of exhibit space in Atlanta, Ga. USA from Feb. 12 – 14, 2019.
Be sure to stop by Kollmorgen booth B-7820 to see the latest in motion innovation for the meat, poultry and feed industries.
SHOW TIMES
Tuesday, Feb. 12, 10 A.M. - 5 P.M.
Wednesday, Feb. 13, 9 A.M. - 5 P.M.
Thursday, Feb. 14, 9 A.M. - 3 P.M.
Add Kollmorgen Booth to your show planner now for easy navigation during the show.