Back to top
Kollmorgen is a key player in the Industry 4.0 revolution with solutions for robotics and automated guided vehicles with 2,000 people employed worldwide. Our infrastructure, intellectual knowledge, passion and experience are testament to our pursuit of motion excellence. And because of our heritage of customization, we see opportunities, not obstacles.
Why Work for Us?
More than five decades ago, Kollmorgen developed the direct drive technology that enables some of today's most remarkably innovative machines.
We helped engineers build the first self-contained artificial heart. Our end-to-end onsite engineering resulted in China's first air-jet loom for manufacturing, and we've been a pioneer in hybrid motor technology for transportation for two decades.
We work together to win together.
Meet our People
Josefine,
Strategic Purchasing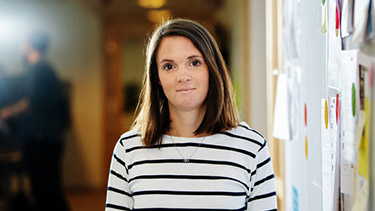 I have a solid logistic background within large industrial based enterprises. The industrial trend is to relocate units globally to stay competitive. That brings uncertainty to the workforce. I joined Kollmorgen because their hi-tech products are the opposite; innovation based services. You can't relocate that type of know-how easily. That's where I want to invest myself.
Being at the core of our supply chain, I'm responsible for relations and negotiation with our suppliers. It's about trust, being on-time and on-budget. I do have a slightly "obsessive" tendency towards process efficiency improvement.
The key difference between large enterprise and Kollmorgen is that here you aren't caught in "political bureaucracy". The atmosphere is more open which encourages you to contribute. And that make us move fast!
Studied: Business Administration - Logistics, Linnaeus University (Bachelor), University of Gothenburg (Master)
View Our Offices & Open Positions