Back to top
Kollmorgen is a key player in the Industry 4.0 revolution with solutions for robotics and automated guided vehicles with 2,000 people employed worldwide. Our infrastructure, intellectual knowledge, passion and experience are testament to our pursuit of motion excellence. And because of our heritage of customization, we see opportunities, not obstacles.
Why Work for Us?
More than five decades ago, Kollmorgen developed the direct drive technology that enables some of today's most remarkably innovative machines.
We helped engineers build the first self-contained artificial heart. Our end-to-end onsite engineering resulted in China's first air-jet loom for manufacturing, and we've been a pioneer in hybrid motor technology for transportation for two decades.
We work together to win together.
Meet our People
C.J. Snider,
Manufacturing Engineer Tech II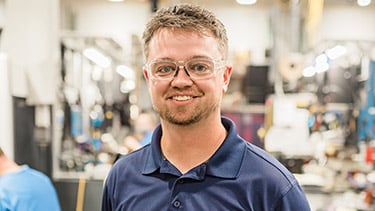 I started with Kollmorgen at the Rock Road, Radford, VA USA manufacturing plant as a Machinist after studying Machine Technology at a local university. I instantly felt right at home in the work environment at Kollmorgen. This was my first Machinist position, so I was nervous about how I was going to perform applying to real life what I'd learned in school. Everyone was so willing to help and share their years of experience. I was promoted to 2nd Shift Lead Machinist at our Kollmorgen Rock Road plant and then transitioned into a first shift Machinist role at Kollmorgen Main Street in Radford, VA USA.
I spent 5 years at Rock Road and, although it was a big step relocating to another Kollmorgen plant, the culture of Kollmorgen encourages growth and I was determined to continue to learn. I truly enjoyed working at Main Street and Rock Road, but after almost 9 years of moving around in Machining positions I was still wanting to grow within the company. I am a true believer in "hard work pays off". I accepted a Manufacturing Engineering Tech Role back at my home base at Rock Road. I've been in this role for one year and I couldn't be happier with my decision. After 10 years at Kollmorgen, spending almost equal time at two plants, I can say with confidence I am looking forward to another 10 years with his amazing company!
Ann-Sofie,
Accounting Manager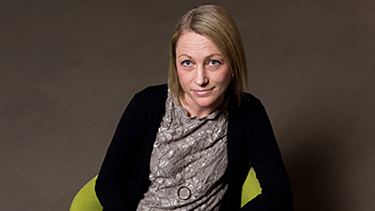 I really enjoy working in Hi-Tech and automation. Although accounting isn't so close to the technology, our brilliant and dedicated engineers are always eager to invite us into their world of science. It is really interesting to see the continuous progress and the great achievements we're responsible for. It's certainly a fascinating industry to work in.
Since we are a mid-sized company with the power of a larger international business group behind us, I have to be very adaptable and work multirole. We manage financial flows throughout the whole world so there's always something new happening. It's a constantly changing and interesting environment to work in.
Studied: Business Administration, University of Gothenburg
View Our Offices & Open Positions