Back to top
What is a Robotic Cluster?
Originally published 3/29/2018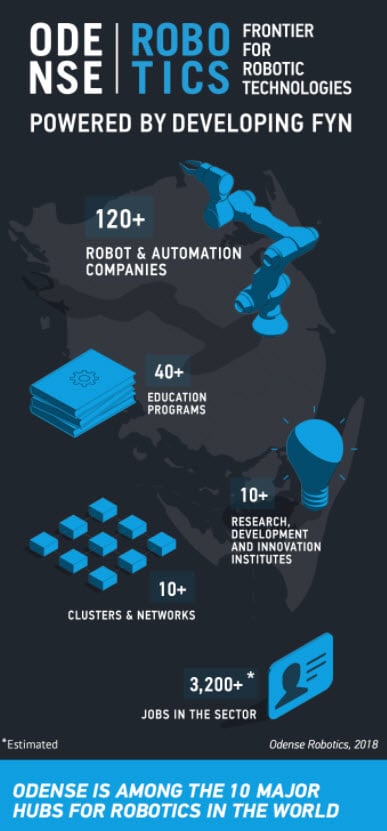 Huge demand for robots, cobots, AI and Industry 4.0 is driving innovation hubs across the globe. Whether the focus is software, industrial robots, cobots, medical robots or something else - the best way to facilitate and attract talent is to huddle around academic centers and universities. Thus is born a Robotics Cluster, which is a group of entities that – formally or informally – locate in close geographical proximity. There are several Robotics Clusters popping up around the globe. Here are two examples of robotics clusters in North America and Europe:
Denmark Robotics Cluster
Born from the hometown of the articulated robotic arm company Universal Robots, Odense Robotics is in Denmark which could be thought of as "Europe's Gateway to Robotics" – it is a fitting location for a robotics cluster. Odense was "named the No. 1 entrepreneur-friendly city in Denmark for 2015" and is home to academic centers such as University of Southern Denmark. Odense Robotics notes that it is close to 40+ robot related education programs and has other clusters, education centers, companies and financing partnerships.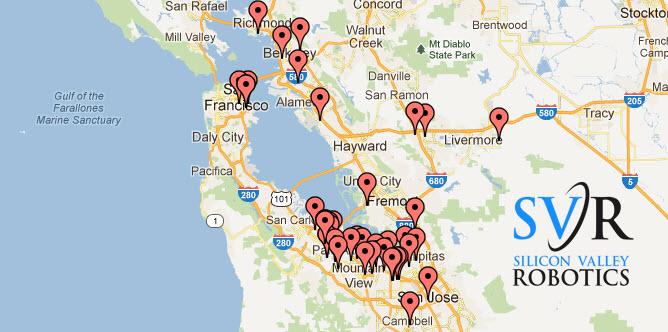 Northern California
It's not surprising that the San Francisco Bay area is a hotbed of startup companies as well as research and development. Silicon Valley Robotics (SVR) is a not-for-profit coalition of robotics companies and startups launched in 2010 focuses on networking and facilitating research between different industries. Networking consists of a range of formal as informal activities from Happy Hour meetups to forums. SVR also has a job section to connect robotic and AI startups with their next employees.
The large demand for cobots, robots and robotic professionals is inspiring co-located robotics clusters to develop across the globe. As we aspire to take artificial intelligence and collaborative robotics to the next level, no one group can do this alone – making information sharing critical to technology advancement. This is what makes groups like Odense Robotics and SVR so beneficial to the cause.
About the Author
Automated Guided Vehicles