Back to top
First look at Steer-by-Wire Car - A Bit Behind the Times
There is an interesting, and pleasingly short, article in Wired magazine: Take a Look Inside the First Steer-by-Wire Car, by Matt Jancer.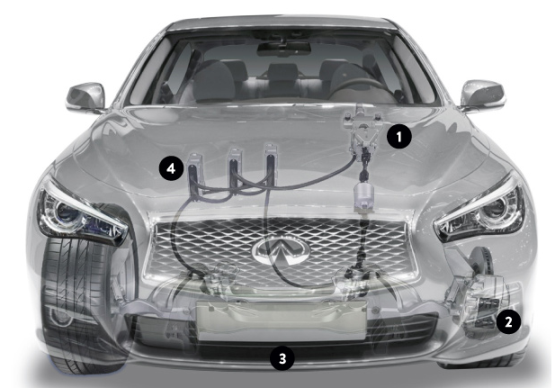 Although my blog entries will generally call attention to new ideas we think will end up someday on the factory floor, drive-by-wire actually lags industry: this type of following, such as electronic gearing (a.k.a. cam profiling or camming), has been available in Industrial Automation for years.
In drive-by-wire, an encoder or resolver is mounted to the steering column. It can sense which direction the steering wheel is turned, and can also sense how fast the wheel is turning. This information is read by the controller, which in turn controls a linear axis that actually turns the wheel. This mechanism could be something as simple as a servo motor with a pinion press-fitted on the shaft and a rack to actuate the steering. (It could also be a screw actuator or even linear motor).
The road feel as well as sensitivity to the steering (how responsive or sloppy the steering feels) can be adjusted by the manufacturer at the control and amplifier. Naturally, aftermarket tweaks will be available if you want to tune your steering.
Industrial Automation already has many examples of this technology. For example, a continuous feed web press may have a surface encoder sensing the speed of the web; this encoder would generate the master signal. A servo amplifier or controller will accept this signal, and generate motion elsewhere that is proportional to the master signal.
The following axis may be electronic camming. The distinction is there could be a non-linear relationship of the following motion with respect to the master, or linear motion may ensue like a piston rod riding a mechanical cam shaft would move (the cam shaft is rotating, and the piston is moving up-and-down). The motion is nevertheless repeatable and predictable because it is programmed that way.
In the automotive industry, safety and avoiding lawsuits are top priorities... So there is the perceived need for multiple-redundant encoder/resolver and a clutch that can engage the old-school mechanical steering if the amplifier or control or following motor/actuator was to fail. Someday, that clutch and mechanical backup will quietly disappear and we'll be driving exclusively by wire. If we're driving at all… But that is a different discussion for a different day.
About the Author
Automated Guided Vehicles