Back to top
Direct Drive vs Mechanical Transmissions on Lab Equipment
We've talked about direct drive in a number of posts to Blog in Motion - about how they offer numerous performance advantages. But, have you ever considered the dramatic life cycle cost savings utilizing a direct drive approach?
There aren't many of us that open up the hefty manual that you receive with your new lawn tractor or dishwasher but if you did there would be a section in there on "preventative maintenance." There's a similar section in the documentation that comes along with most IVD analyzers and other lab equipment. The documentation often includes recommended activities to be done on a weekly, monthly and yearly basis to keep your instrument running as intended.
In many cases, your service technician takes care of these tasks as part of an annual service contract. Each time the service tech needs to access your equipment, however, is time when you are not able to process samples. No samples processed results in zero revenue, but much more importantly means that patients may have to wait longer for their test results. If there was a way to reduce the number of service tasks or even eliminate them entirely - what a world of difference that could make.
To begin with, most mechanical transmission configurations will require scheduled maintenance - time when you must stop your instrument from running so you can adjust the mechanics. Whether adjusting belt tension, replacing a worn belt, or messing with that gearbox (yes - almost all of those sleek new chem, immuno and hematology analyzers have gearboxes and belts all over them!), each of these items must be considered in any life cycle cost calculation. After all, time and labor are not free.
We've talked before about how direct drive solutions are more efficient. Direct drive eliminates the inefficiencies of the gear train, thus reducing power consumption. This equates to energy cost savings which add up over the life cycle of your machine.
What about those moments when something fails in the transmission - a belt breaks or a gearbox jams. What about the mess associated with a leaky gearbox? It's important to consider that unscheduled downtime will happen, and you should also take this into account - lost processing time.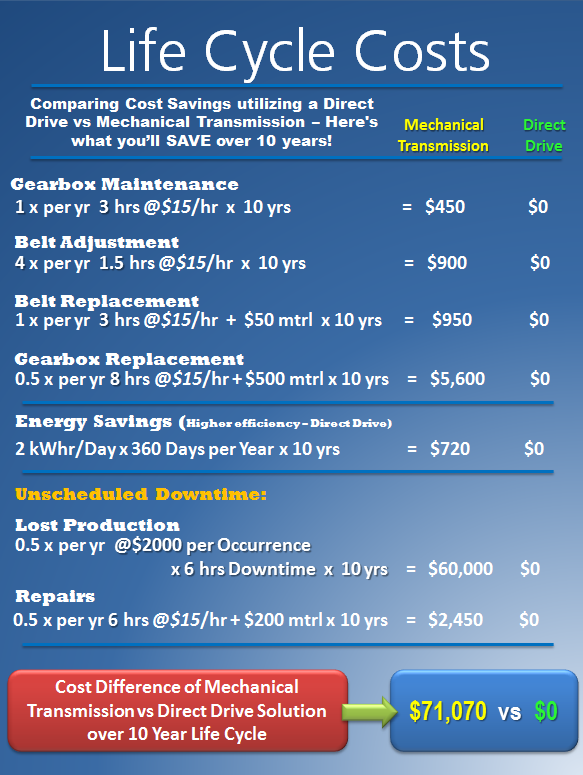 Life Cycle Cost Comparison
There are a variety of direct drive alternatives you can consider for any machine design you might have considered a mechanical transmission for. Direct drive solutions come in housed, ready to mount versions, cartridge types, framless kit types, and linear motor assemblies.
In the graphic above, we've included a brief summary of the expenses we identify as being associated with current automation technology. Is there another aspect of mechanical transmissions you are concerned with? Let us know what troubles you've run into and we'll see how we can assist.
About the Author
Automated Guided Vehicles