Back to top
Cooperation Between Industry and University - An Update
This blog was originally posted back on June 18, 2012 - I wanted to update this with some new activities regarding our work with Universities since that date...
There has been a long standing cooperation between Industry and Academics throughout the recent centuries. Just look at the companies that pop up near Universities - like the Route 128 corridor near MIT, or Silicon Valley's influence by Stanford, UCB and UCSF. Every major research university houses a "technology park" filled with start-ups incubating their new ideas and inventions. But it's not just the entrepreneurs that latch on to collaboration with academics. Established firms also find it beneficial to work with universities on various projects of interest, especially where an emerging industry may be getting ready to take off.
I've seen a variety of programs over my 30 years at Kollmorgen, including a number around "green initiatives". Way back in the 1980's, I personally worked with Crowder College in their Solar Car Race across Australia. It was an interesting challenge - we helped their efforts by modifying a brush type DC motor to be as efficient as possible running on a 48 volt source. This involved optimizing the winding for the voltage, but also minimizing the friction associated with the bearings and brushes used to commutate the motor. The vehicle did well, finished 3rd in the race - might have finished higher but had an incident along the way which set them back.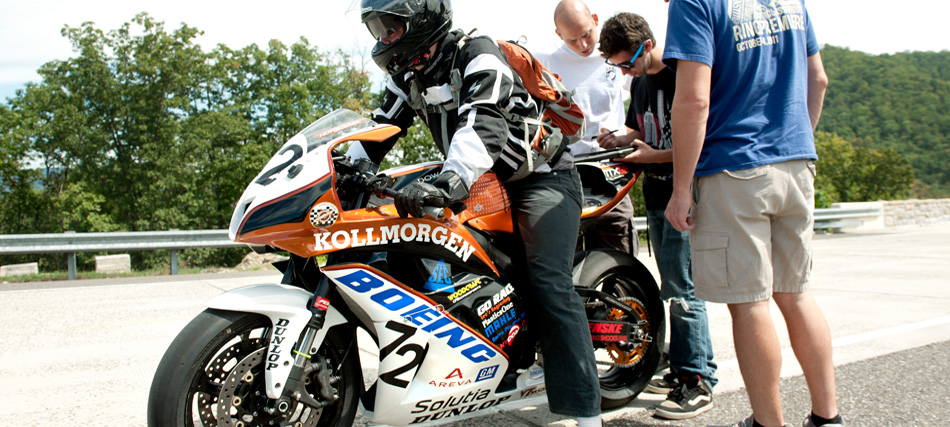 Recently, Kollmorgen has worked with a group of seniors at Virginia Tech on an all-electric motorcycle. Using motor and drive technology developed for off road and mobile power generation, Virginia Tech was successful in building a competitive motorcycle, the VT BOLT (Battery Operated Land Transportation) which has successfully competed at a number of events, and came in first in its class at the TTXGP eGrand Prix in Portland Oregon, June 23 - 24, 2012, televised on ESPN2! The students were excited about how this all came together and the success they are having. We're excited for them as well and are looking forward to the teams exciting adventure in Portland. Good luck to the VT Bolt crew!
Since then - what other adventures have we seen?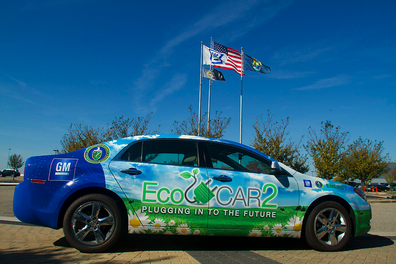 We've continued our work with several teams at Virginia Tech, assisting the VTBolt team with modifications for a new higher power Electric Bike that is slated to get back out on the race circuit sometime in 2015. We also assisted the HEVT team working on the General Motors Electric Car Challenge. In this application, we supplied a high efficiency, high power density, electric motor generator for the car affectionately known as "Mary". She's been lighting up the competition at a number of the General Motor events and will compete this June in the finals at the GM proving grounds in Michigan.
You have seen other posts on our Blog in Motion about CHIMP - another effort supporting the Tartan Rescue team at Carnegie Mellon University who entered the DARPA Robotics Challenge competition to provide an autonomous robot that can work in hazardous environments.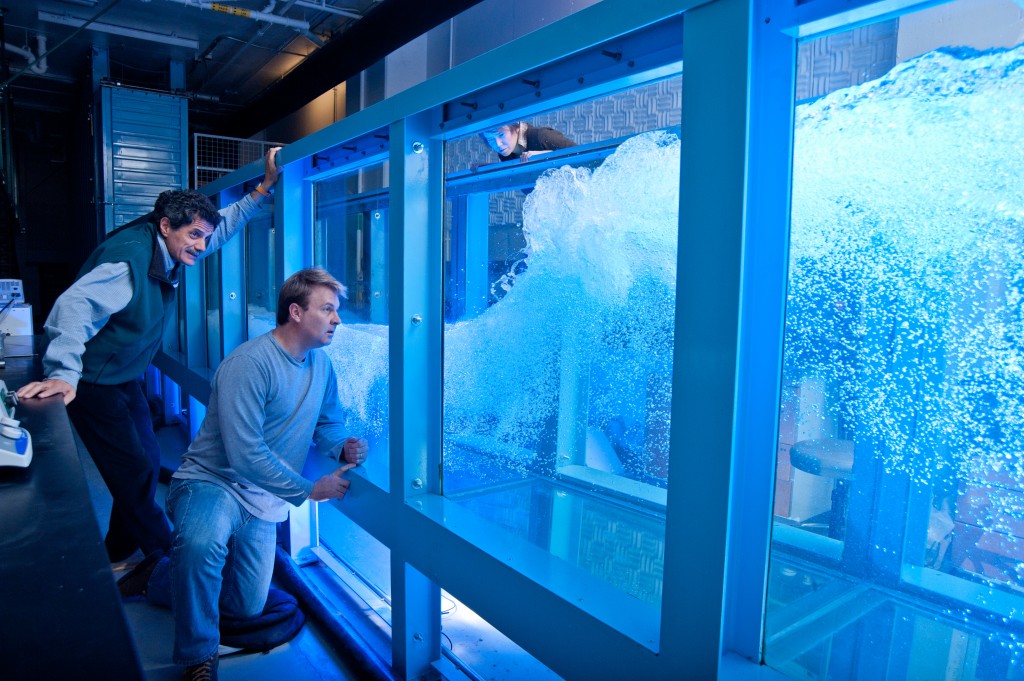 At the University of North Carolina, Chapel Hill, we've dived into another project - a Wave Tank. UNC students have used Kollmorgen electric cylinders, which are being developed as drivers for an array of hydraulic pumps, to produce custom engineered waves in a 120 foot long wave tank. The tank is in the Joint Fluids Lab at UNC in Chapel Hill, North Carolina. Collaborating researchers in Applied Math, Computer Science, and Marine Sciences will use these waves to perform experiments in basic fluid dynamics with economically and environmentally relevant results. The envisioned array will be made up of 16 banks of three cylinders, each powered by a Kollmorgen prime mover. Each prime mover is an AKD-Basic and EC2 300mm actuator. The cylinder banks are arranged at various depths to control wave action over a vertical profile of depths. The cylinders act similarly to syringes pulling a specified amount of water into a tube and forcing it back out with electronically controlled velocities. Each cylinder works independently but in coordination with all the others to create the custom wave. Researchers at UNC have successfully developed and tested software to coordinate and run a subset of the desired experiments.
All of these interactions with the various Universities give us a chance to lend our experiences, our expertise, to the students who are trying to make the world a better place, bringing new ideas, new thoughts on how challenges in the world can be solved.
About the Author
Automated Guided Vehicles