Back to top
CHIMP Continues to Climb - An Update
In July of last year I posted a blog about the CHIMP robotic platform. CHIMP stands for CMU Highly Intelligent Platform. It was one of 16 entries under the DARPA (Defense Advanced Research Agency Projects) sponsored Robotics Challenge program with the goal of developing robotic technologies that can be used in harsh environments such as man-made or natural disasters in lieu of humans. The robots will be required to open doors, turn valves, connect hoses, use hand tools to cut through panels, drive a vehicle, clear debris, and climb a ladder.
The CHIMP was designed and developed by NREC (National Robotics Engineering Center), the applied research and technology transfer organization of Carnegie Mellon University's Robotics Institute. Several corporate sponsors, Kollmorgen included, teamed with NREC to form the Tartan Rescue team with the goal of winning the DARPA Challenge.
So far, so good. The initial competition was held in December at the Homestead-Miami Speedway where the 16 robotic teams had to compete by completing multiple tasks that mimic those required in a disaster response scenario, such as the Fukushima Nuclear Plant in 2011. The NREC Tartan team is one of eight (originally sixteen) competitors selected for the finals competition in December 2014 and ranked 3rd overall in the trials. CHIMP's third place finish was a great achievement because the robot wasn't fully assembled until 6 weeks before the trials. The programmers didn't have time to write software for the driving task and could only address a portion of the ladder climbing and mobility tasks. With a fully functional CHIMP robot ready at the outset of finals preparation, the team expects to challenge for the top prize.
CHIMP had perfect scores in three critical tasks (cutting a hole in the wall, removing debris, and closing valves). Standing at 5ft-2in tall with a combined weight of 400 pounds and an extended wingspan of 10ft, it was reported that CHIMP excelled at manipulation tasks, which is a tribute to the Kollmorgen motors. CHIMP utilizes Kollmorgen frameless motors in each of its drive joints to deliver high performance in a very small package. Kollmorgen supplies both custom motors designed specific to NREC performance requirements as well as several standard KBM™ series frameless motors to drive the 45 degrees-of-freedom robot.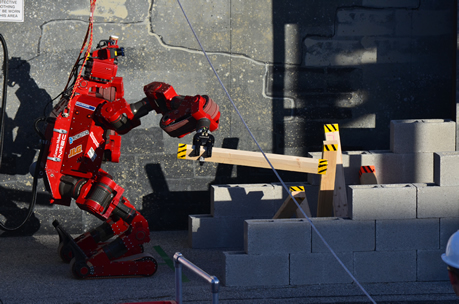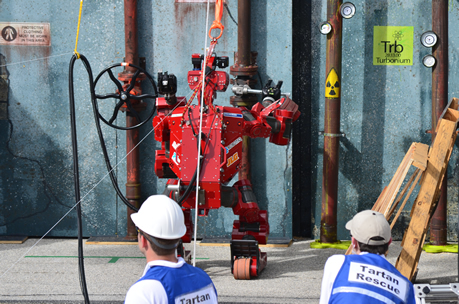 CHIMP Clearing Debris CHIMP Closing a Valve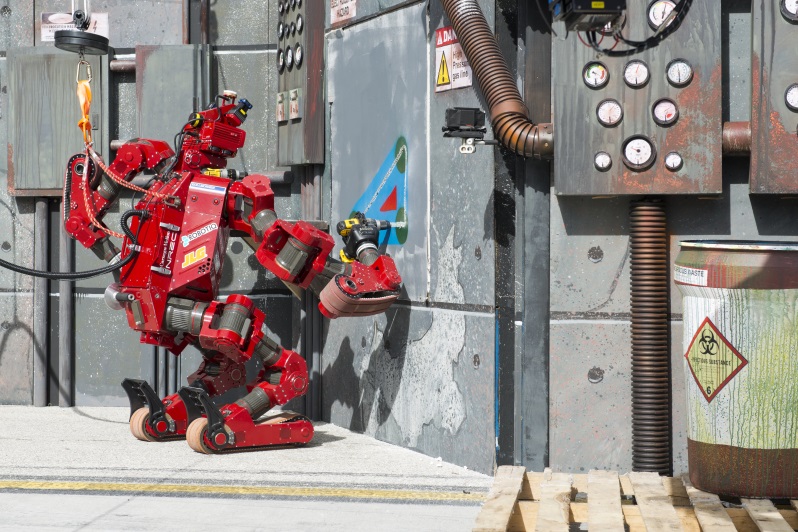 CHIMP Cutting Through a Wall
The December finals will involve more difficult tasks, but the winner will receive an additional $2M of funding from DARPA for further commercialization efforts. We wish the Tartan Rescue Team good luck!
Our other social networks: Twitter, Facebook, LinkedIN and Google+ often share updates and photos of CHIMP as it reaches noteworthy milestones. Feel free to follow Kollmorgen to keep up with CHIMP.
About the Author
Automated Guided Vehicles