Back to top
Brushless Motors in Interesting Places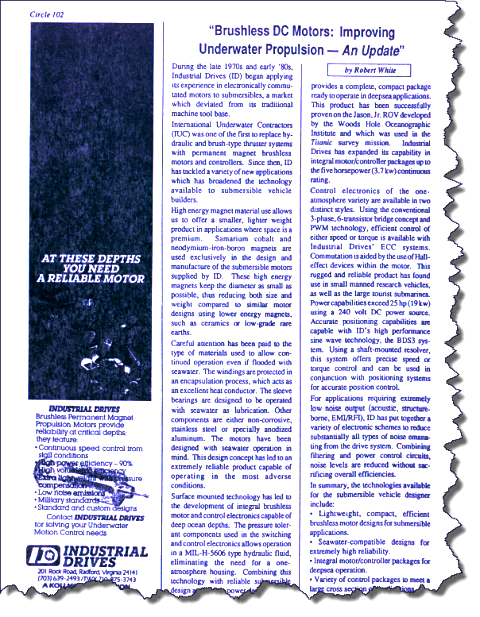 Today's blog is part of a Throw Back Thursday post - about an article I wrote for SubNotes magazine back in 1988. At the time we had completed a number of submersible motor applications for some very unique and tough environments. Applications with interesting names like Alvin, Jason Jr, or Robin - the first, a manned research vehicle at the time operated by Woodshole Oceanographic Institute, the other two, remotely operated submersibles used to explore the wreck of the Titanic, among other adventures. In the case of Jason Jr, the combination of a brushless dc motor, with an integral six step amplifier, built in an oil-filled, pressure compensated housing capable of operating at pressures approaching 10,000 psi. But as you have found in the History of Innovation series I have been writing in this same blog roll, this kind of difficult application challenge is just in Kollmorgen's DNA. Our ability to look at challenges and utilize our core competencies and innovative designs that can conquer the chilly depths of the north Atlantic, the cold desolation of space, or the intense heat and pressure of an oil drilling operation.
This article was written in 1988 when the Industrial Drives brand was a big part of Inland Motor - both part of the Kollmorgen Corporation at that time. Our Advanced Systems group was involved in numerous application tied to a variety of hazardous or challenging application, including environments like high altitude, vacuum, radioactive, high temperature, and high pressure - and sometime combinations of these. All of these environments challenged the engineering teams to find solutions to overcome the unique challenges these environments tossed at us.
What application challenges do you have?
About the Author
Automated Guided Vehicles