Back to top
Kollmorgen improves the cables
The power and feedback cables continue to be essential when connecting a motor and a drive to achieve optimal performance for a given axis of motion. A poor quality cable can lead to the motor and drive solution not working at all or even showing erratic behavior. There are many factors that impact the quality of cables including materials used, gauge of wire, noise immunity, length of cable and so forth, all of which Kollmorgen continues to delivery high quality cables even mastering these factors in the single/hybrid cables offered in Kollmorgen's portfolio.
Kollmorgen continues to improve cables and has made the following improvements:
Cables equipped with Speedtec® connectors up to 20A (2.5mm² wire gauge) will now be equipped with Locktec® connector. Besides the Locktec® connector having a more valuable appeal and branding, the Locktec® connector provides additional bend protection. And of course, the Locktec® system is 100% compatible with the Speedtec® system.
We removed the traditional sticker label on the cable and replaced with a new printed designation directly on the cable. No need to worry about losing the cable label anymore and having product identification issues!
At first these improvements will be implemented in the AKD power and feedback cables as well as the washdown cables. Our other cable products will get these improvements at a later date as well. These cable part numbers and list pricing are not impacted so you can enjoy business as usual and these additional improvements.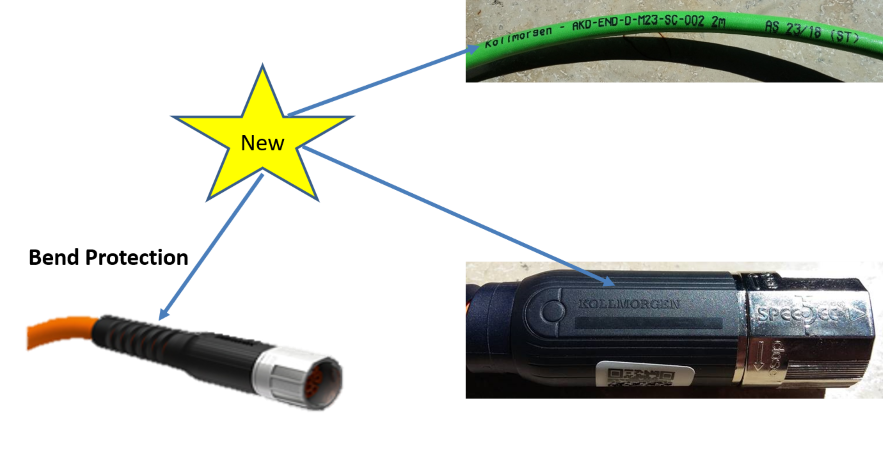 About the Author

Arne Linder joined Kollmorgen in 2013 and is currently Product Line Manager for Drives. Being based in Ratingen, Germany he is responsible for servo drives and the associated accessories with main focus on the European market. Arne Linder studied electrical engineering at Wuppertal University, Wuppertal, Germany, where he graduated as Ph.D. in 2005 with a thesis on predictive control methods for electrical drives. After that we worked for Bonfiglioli Vectron as a software engineer developing firmware for frequency inverters. In his spare time he likes to take photos and go hiking, the latter preferably together with his wife and four kids.
Automated Guided Vehicles